ExpelledRL
A downloadable game for Windows and Linux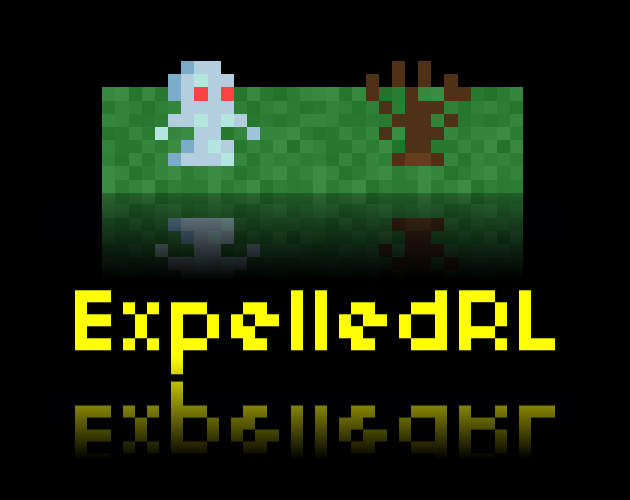 You enter the final room of the dungeon, quite confident that all the power you have accumulated in your descent will lead you to victory. The amulet of Yendor is right there, standing on an altar on the opposite side of the room. You start to move carefully, wary of any trap that could trigger...
ExpelledRL is my first 7DRL entry. It explores the possibility to impersonate any creature in a roguelike game. It has the typical features of the genre with permadeath, high difficulty and randomly generated dungeons. This game was built in 7 days, starting from the tcod python tutorial.
Features:
Possession spell: you can be any monster in the game
8-level dungeon with a variety of environments and challenges
13 different endings
Keyboard only controls
Story and tutorial
8x8 graphics from Oryx design labs
How to play:
Press 't' at anytime for a help page (abusively called tutorial). Use the arrows, keypad or vi keys (hjkl/yubn) to move. Use 'a' to cast a spell, 'p' to possess a monster while alone with it, and '>' to descend stairs to the next level. Make sure you read the messages as they indicate important stuff.

Change log:
2019-03-15 (full changelog in sources):
Fixed a lot of bugs
Polished gameplay a bit
2019-03-11:
Fix missing font
Use platform-independent path components
Added precompiled linux and windows executables generated with pyinstaller
2019-03-10:
Initial release (crashes because of missing font)
Developers:
Install instructions
Prefer the source code version if you have python and know how to install dependencies.
Windows:
Download and unzip the file for windows. Then run the expelledrl.exe file in the directory.
Linux:
Download and unzip the file for linux. Make it executable and run it from a terminal. In case of problem, make sure your /tmp directory is writable and holds about 200Mb of space.
Source code:
Download the zip and extract it to a writable folder. Install python3.5+ and virtualenv. Also install libtcod (https://bitbucket.org/libtcod/libtcod) and sdl2. Then, to run the game, move to its directory and use:
./run.sh
Optionally, you can also install the required packages with pip and run directly python:


pip install --user -r requirements.txt
python3 expelledrl.py

To enable developer mode, use the -debug command line flag. Additional actions will be available in the action menu.